The 2021 World Knife Throwing Championships will be taking place from December 10th – December 12th in Fort Worth, Texas.
Throwers are competing for the title of World Knife Throwing Champion and a $5,000 prize pool!
The World Knife Throwing Championships will consist of:
11 Throwers per WKTL Season who earned their bid to Worlds from league play.

There are still 11 more WKTC bids to be won through the WKTL Fall League.

The top 10 finishers at the US Open

32 Players from the WKTL Open Qualifiers
The Event
The World Knife Throwing Championships will be held in conjunction with the World Axe Throwing Championships.
WKTL and WATL Events will be taking place across Fort Worth
Venues:
Event Schedule
Locations of Events TBA
Friday
12PM – WKTL
6PM – Big Axe
Saturday
9AM – Hatchet
3PM – Duals
Sunday
ESPN Finals
6PM– Thrower's Ball
Prizes
There will be a $5,000 Prize Pool for the 2021 WKTC.
1st

$1,500

2nd
1,000
3rd – 4th
Tied for 3rd
(2nd At Venue)
$700
5th – 6th
Tied for 5th
(3rd At Venue)
$200
7th – 8th
Tied for 7th
(4th At Venue)
$150
9th – 12th
Tied for 9th
(5th At Venue)
$100
Entry Fees
$80.00
Mask Policy
Players and spectators will be required to wear CDC-approved masks at WATL/WKTC events.
Masks are a precautionary measure; due to the rapidly changing circumstances surrounding Covid-19, our mask policy may be subject to change.
Spectators
An update regarding spectator ticketing at WATL/WKTC will be announced shortly.
Those who are competing in the WATL/WKTC will not require tickets to WATL/WKTC events.
WKTC Jerseys
Starting at the 2021 World Knife Throwing Championships, Throwers are allowed up to four Sponsors on their Jersey.
For full information regarding Sponsorships at the WKTC, please see the link above.
If you have sponsors that were approved for the 2021 US Open, they do not need to be resubmitted. To approve all other sponsors please submit through the link below as soon as your sponsors are available.
Thrower's Ball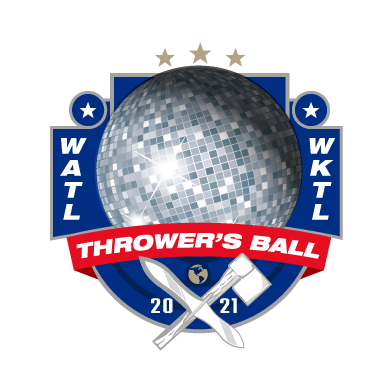 Finish out the weekend with the Thrower's Ball, the final event of the WKTL/WATL Year.
Celebrate with a night of camaraderie, dinner, dancing and a live presentation of Awards.
The Thrower's Ball will be a celebration of the tremendous year we have had, and a preview of the year to come.
The Thrower's Ball will be held at Billy Bob's Texas on Sunday, December 12th.
Pricing and Ticket Information will be released shortly.
Seats will be limited.
Accommodations
WKTC Bid Winners
Travis Blank
Michael Dixon
Tyler Flynn
Sam Newman
Steve Middleton
Trent Lilly
Brandon Johnson
Brett Williamson
Shane Shep
Thomas Corey
Mikel Philabaum
Joe Flaugher
David Guentert
Kyle Rickenbaugh
Scott Gardner
Jonny Tran
Ray Siochowicz
Dale Fowler
Michael Dolan
Dustin Rose
Kyle Bower
Austin Bock
Brian Buchanan
John Doepke
Billy Erkelens
Josh Westphal
Brad Cole
Andy Rice
Alan Thompson
Kelly Butler
James Ruddy
Vail Cook
Joshua Taylor
Kev Fang
Lucas Johnson
Scott Phillips
Shane Feikema
Mat Ball
Benjamin Fowler
Reese Dixon
Preston Parish
Gary Dayter
Mike Coombs
Skyler Zimmerman
Brianna Richmond
Shane Funke
Ryan Gibson
Mac Stoughton
Chuck Westphal
Tony Luce
Fred A
Dimitri Karakis
Chloe Lawrence
Ragnar Olafson
Colby Dean
Mark Mirasol
Brian Collins
Amanda Rickenbaugh
Michael Theodorou
Raymond Dales
Adam James
Daniel Abarca
Caci Budde
Tim Haggard
Ben Paultre