Update May 25, 2023: The WKTL USA Pro-Am Championship is coming to Appleton, Wisconsin! November 9-12, hundreds of competitors will throwdown for their chance at multiple championship titles and a spot on the ESPN broadcast. WKTL is excited to be back in the beautiful Fox Cities, with their passionate and supportive community cheering on our competitors.
"We're extremely excited to bring knife throwing back to Appleton along with the World Axe Throwing League. Our last experience there was overwhelmingly positive from our community and the community of Fox Cities." – Evan Walters, WKTL Commissioner
Posted April 13, 2023: In working with the World Axe Throwing League we're excited to announce that we've developed a new and exciting tournament called the USA Pro-Am Championship! What will happen to the US Open? Well it's being retired going forward. Who knows it may come about again but for now we're moving on from the same tournament structure we have already.
The new USA Pro-Am championship will focus on highlighting throwers of various skill levels, marking the first step towards a future that contains multiple divisions of knife throwing competition, as well as lean into the more fun and exciting aspects of the sport.
It's been said before that you won't find the true heart of this sport on the live streams or current broadcasts; to find that you'd have to keep the cameras rolling once all competition is done. Watch the pros giving advice and sharing tips and tricks while doing pretty much anything BUT traditional throwing.
This is what we want to encapsulate and show to the public. We have developed events that showcase the talents of multiple throwers while also demonstrating the sportsmanship and fun the sport has to offer. And if all goes well, we'll see some of these as future disciplines in regular league play!
So what does this newly minted Pro-Am look like? Read more below!
Events and Registrations
There will be 9 total events, all of which will have finals aired on ESPN. Registrations will open June 12 and remain open for 3 weeks. Below we'll go into some detail about the knife portions of the tournament. You can read more about the axe throwing competitions here.
WKTL Standard Tournament – 128 throwers
Registration for the first 90 spots in the WKTL portion of the tournament will be open to all competitors falling below a designated average threshold (which has been internally determined) for their highest 2023 season (Winter or Spring). We understand that registrations are likely to exceed the 90 available spots. In this case, those who register will be entered into a lottery for the available spots. Those not selected will receive a full refund of entry fees, and those selected will not be entitled to refunds should they decide not to participate in the event. Additional entries will be extended to anyone who placed top 8 in the 2022 WKTC or US Open, top 4 at any 2023 WKTL sanctioned bid tournament or the top 20 in the 2023 Winter or Spring WKTL season.
WKTL Duals Tournament – 128 throwers
Duals event registrations (as well as other axe skills games) will available as add-ons to the other event registrations – with the exception of 64 skills entrants which will be included with Pro registration. Should additional spots be available after initial registration, these will be open to the public on a first come-first served basis.
Throwers cannot participate in WKTL Duals and Special Axe Duals game, as they will be hosted at the same time on Saturday.
Rules for WKTL Duals and Skills Games
Special Duals Game
Skills Games
Pricing
Schedule
May be subject to change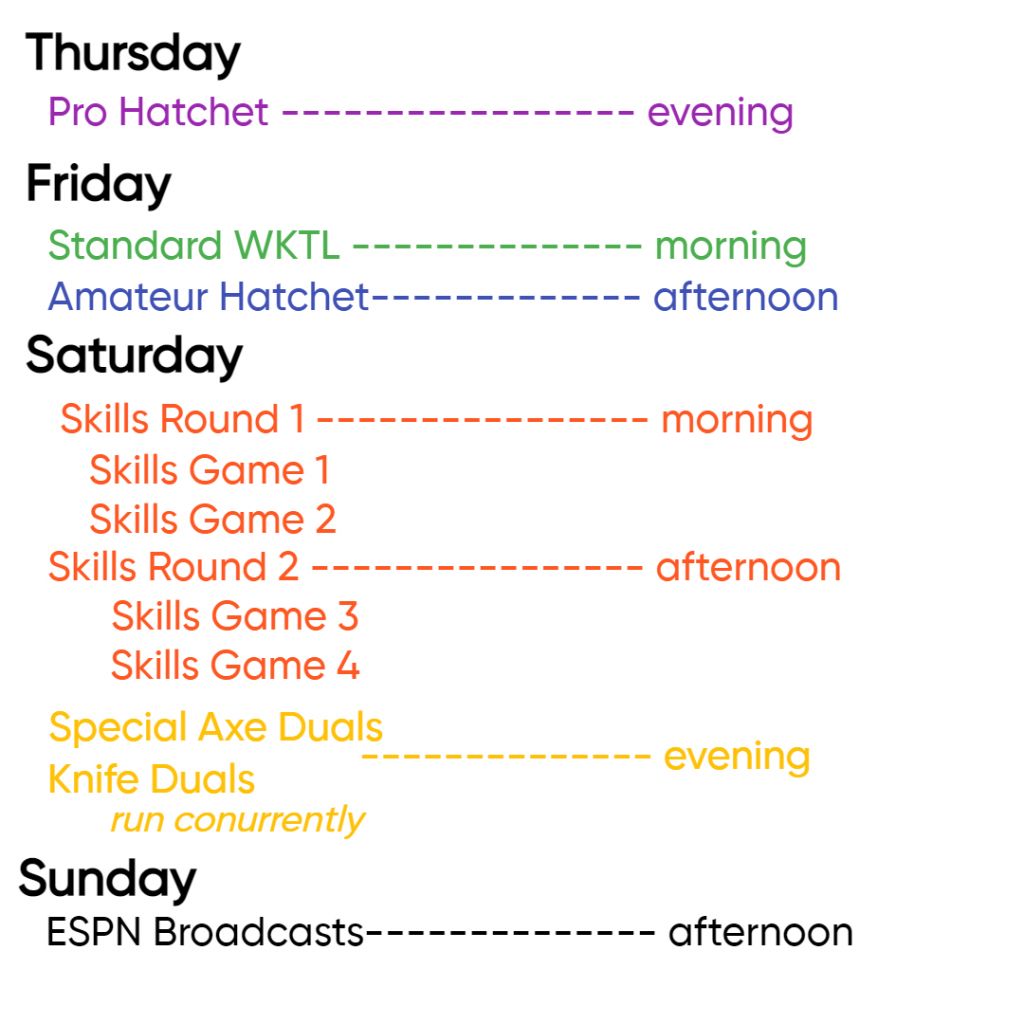 Prize Pools
May be subject to change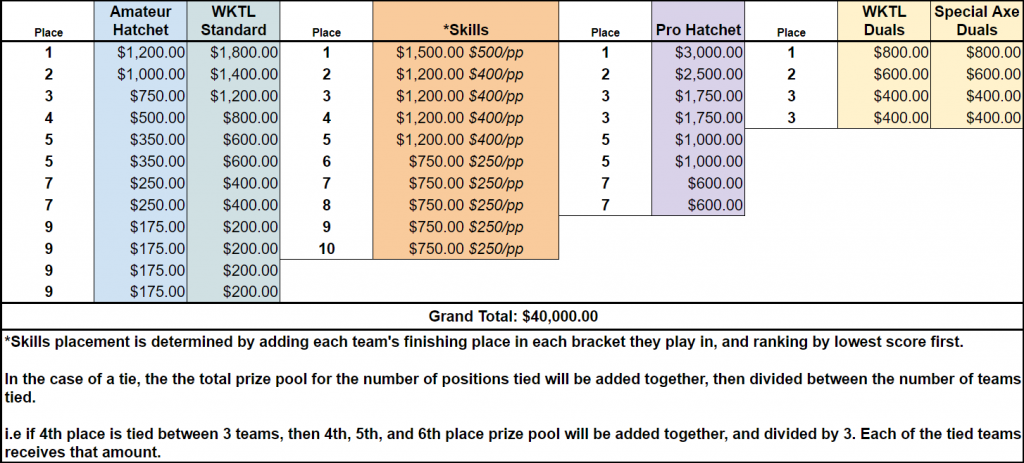 Registrations for all events will open on June 12 and remain open for 3 weeks. Invites for the designated WKTL spots will be sent out around this time.
For more on the axe throwing events please see the WATL's page